Are you a watch enthusiast and torn in between a smartwatch W26+ and W506? Well, this is a dilemma that this comprehensive review ought to solve. The difference in various smartwatches remains slim, and the majority seem to resemble each other. But, what makes W26+ a better watch than the W506 or vice versa? Read on and acknowledge the differences between these two smartwatch brands for a better decision while buying your next timepiece.  
What You Need to Know About W26+ Smartwatch
The W26 Plus watch has the Apple Watch Series 6 clone design that gives it a sporty and stylish look, making it ideal for both men and women. Its dimensions are 44:38:10.7 mm and weigh at about 50 grams. It's a one-sided button and crown watch. The crown allows for interface switching, zooming in and out, brightness control, and power and off switches.
On the reverse side, this timepiece boasts a typical smartwatch configuration that includes magnetic contacts for heart rate sensors and charging. Users can switch watch faces among seven options and switch its sports mode among eight options. The main menu interface moves from right to left, but you can still switch it at the setting option.
Its body consists of a zinc alloy and straps made of Thermoplastic polyurethane (TPU). TPU is a material that bridges between rubber and plastic and appears rubber-like, meaning it's incredibly durable and smooth. Regarding the screen, the W26 plus comes with a 1.75-inch Large Touch Retina screen that's curved with 2.5D glass that creates a resolution of 320×385 pixels. There are white, red, blue, and black colors to choose from when buying this timepiece.
Features on the W26+ Smartwatch
Smartwatch enthusiasts can enjoy an IP68 certified waterproof smartwatch with the W26 plus smartwatch. That means you can continue wearing this watch while washing your hands or on a rainy day without worrying about its damage. The timepiece also includes a heart rate sensor capable of collecting your heart rate over twenty-four hours. It can also help you control your sleep with its sleep monitor. Even more interesting, it has a pedometer that allows you to estimate and control the number of calories that you've burned throughout the day.
Apart from the above features, has a speaker and microphone that allows you to make calls directly through it. Additional features that you can enjoy include a blood pressure monitor, blood oxygen, and other standard features. The timepiece is also equipped with a 220mAh battery capacity to put it on standby for at least two days.
Usability of the W26+ Smartwatch
Once you buy your W26 Plus smartwatch, you should install the M Active App, available in the Play store and the App Store. You will then have to pair the phone with the smartwatch through Bluetooth connectivity, where the timing will set automatically.
After completing these few steps, you can now synchronize your calendar, receive notifications, and pass calls at the comfort of your smartwatch. You can also display the data collected by the smartwatch, such as the quality of your sleep, step count, and heart rate, on your smartphone for a better view.
What You Need to Know About W506 Smartwatch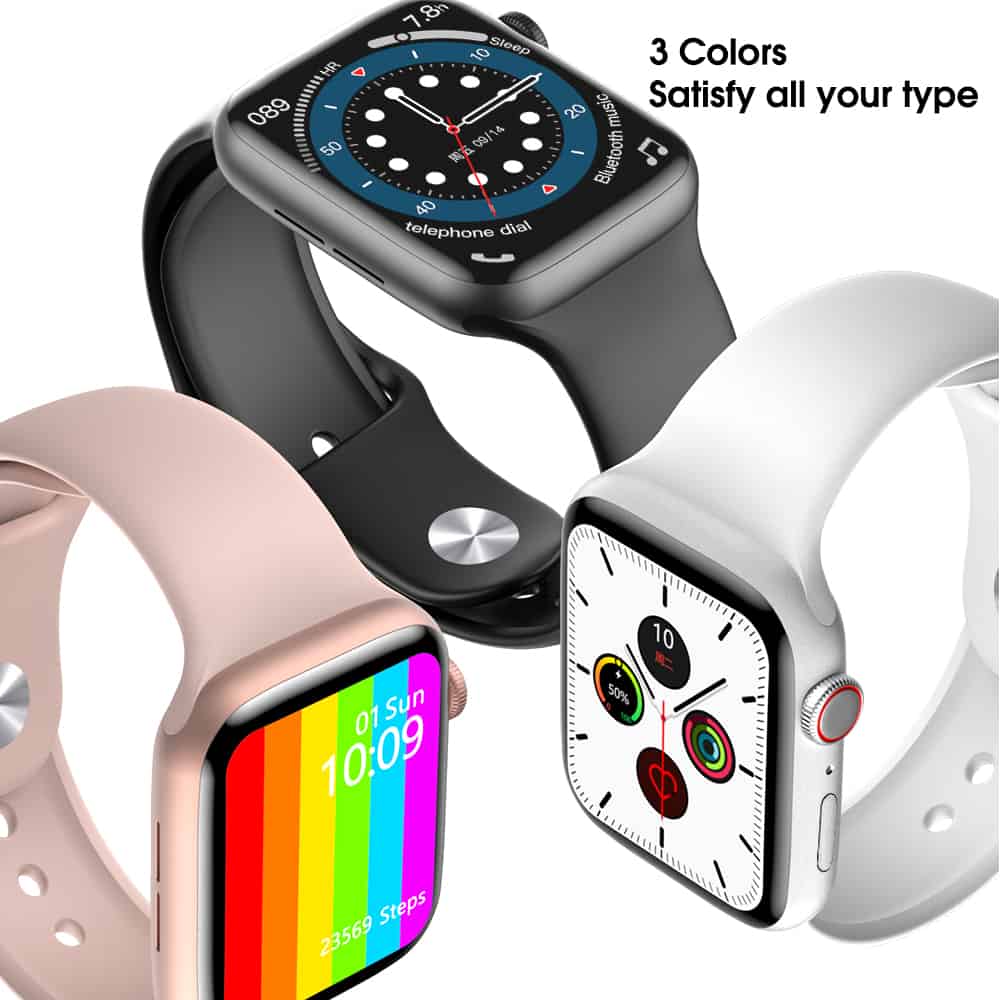 The timepiece is a typical Apple watch series six clone with a 1.75 inch IPS screen with various features like Heart rate, multisport mode, blood oxygen monitor, and Bluetooth calling.
Like the W26+ smartwatch, the W506 has the Apple watch series six design that is fashionable, stylish, and suitable for both men and women. It also measures at 44:38:10.7 and weighs at an average of 50 grams. There are two buttons on one side where one can perform interface switching, zoom in and out, page-turning, and brightness control—the other button functions as a power on or off button. The reverse side has magnetic contacts capable of heart-rate monitoring and charging.
W506 is also made out of zinc alloy, while the straps are available in nylon and silicone. Its display screen is a 1.75 inch large IPS touch retina screen with a curved 2.5D glass capable of creating a resolution of 320×385 pixels. This smartwatch also boasts four in-built faces with one customizable option. There are also eight sport modes that you can choose from.
Features of the W506 Smartwatch
W506 smartwatch is waterproof with the IP68 certification. Therefore, you can comfortably wear it on a rainy day or while washing your hands. The device also boasts of a heart-rate sensor that can collect your heart rate for over a day. It also allows its users to control their sleep with its complete sleep monitor. It also boasts of a pedometer that can allow its users to estimate and manage their calories.
This smartwatch also supports Bluetooth calling and has a speaker and a microphone that allows users to make calls through it. Other features included in the smartwatch include message and call reminders, blood oxygen, and blood pressure monitor, among others. Finally, this timepiece has a 230mAh battery capacity lasting for three to five days in normal usage or a seven-day standby timeline. The smartwatch comes in Rose gold, black, and silver colors.
Additional Difference between the W26+ and W506 Smartwatch
As mentioned above, there is a slight difference between W26 Plus and W506 smartwatches. These differences depend on several factors such as:
Crown and Button
The presence of a crown and a button is probably the most significant difference between the W26 Plus and the W506 smartwatches. W26 Plus has a crown button that combines the power on and off button and performs operations like zooming, interface switching, and so on. On the other hand, the W506 has a separate power button and performs various functions.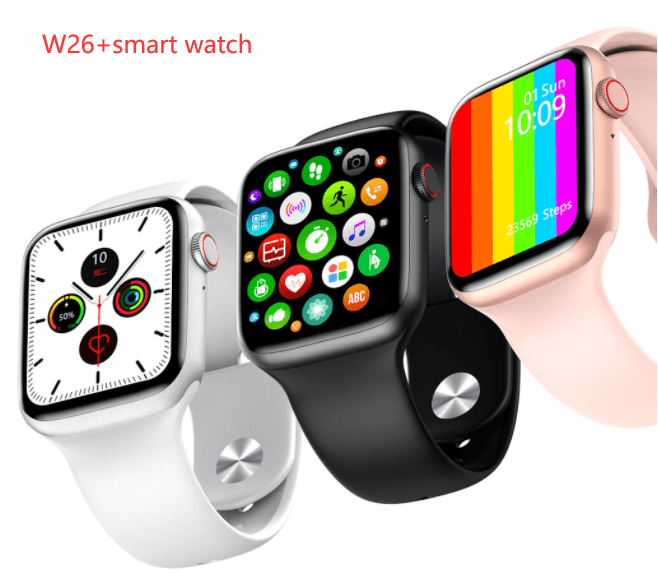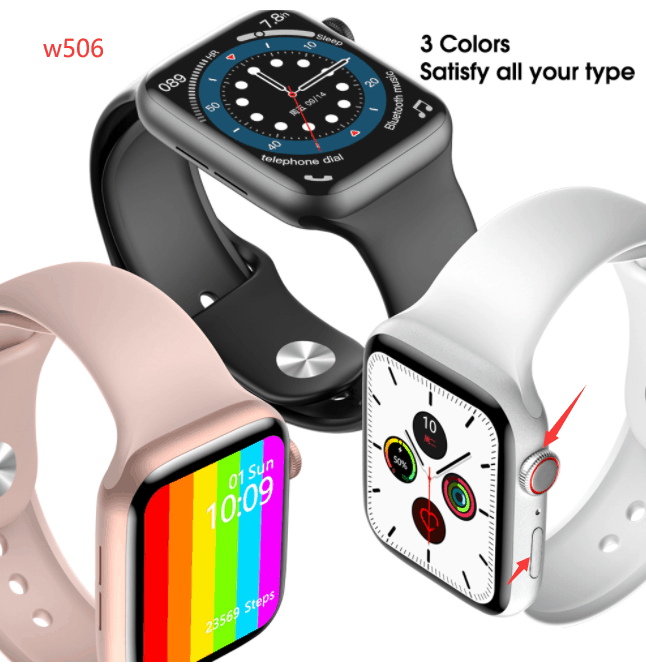 Battery Capacity
The W26 Plus smartphone has a 220mAh battery capacity compared to the 230mAh battery capacity of the W506. This means that the W506 lasts longer than the W26 plus, and that's why it can last between two to three days and seven days while on standby.
Reverse Interface
There are no charging lock buttons on the W506 since it's a wireless charger. On the other hand, the W26 Plus smartwatch has magnetic lock buttons that support the charger.
Charging
The W26 Plus smartwatch uses a magnetic charging ability, hence two holes on the reverse to hold onto the charger. On the other hand, the W506 smartwatch uses a wireless charging ability.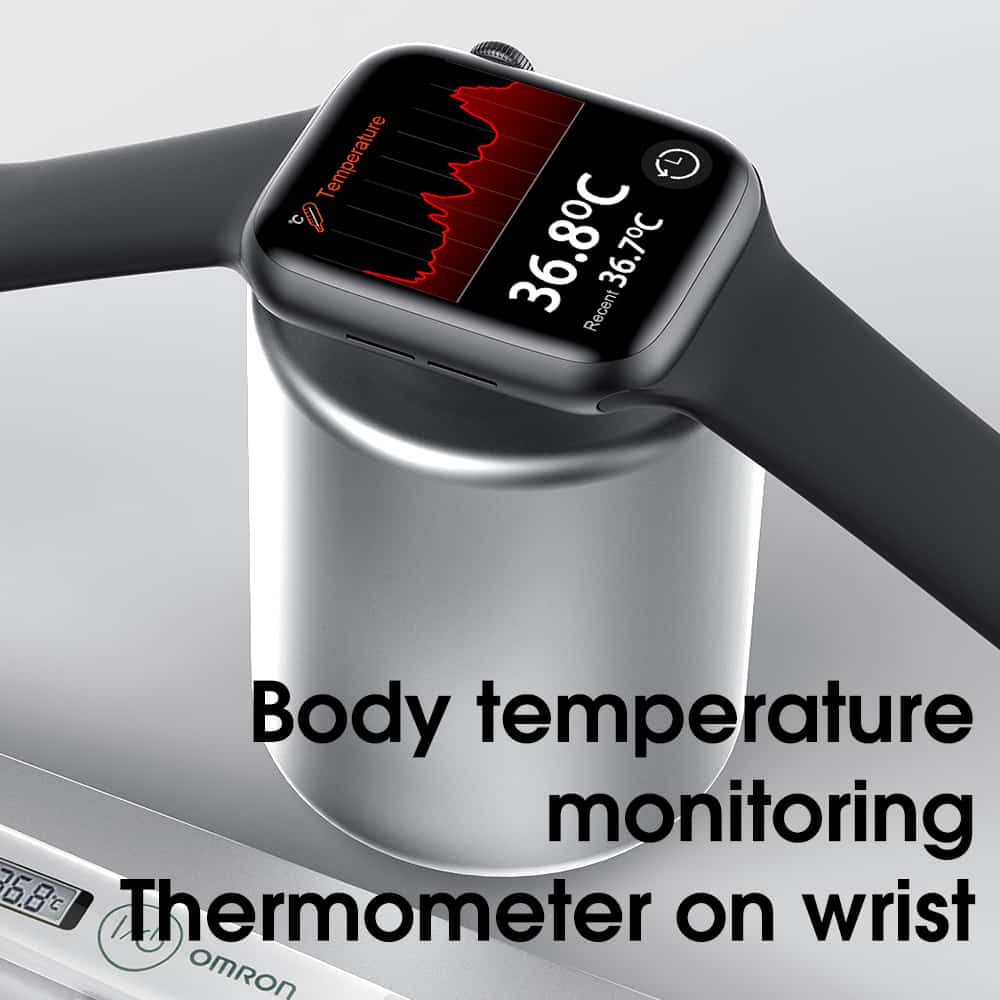 Face Interface
The W26 Plus smartwatch has seven watch faces that you can choose from, unlike the four that come with the W506, which means that you have an additional three faces to choose from W26 Plus. However, this model doesn't allow a customizable option available in the W506.
Strapping
The W26 Plus smartwatch comes with 44mm changeable fruit straps, while the W506 comes with 44mm original bands. Therefore, users can change to any straps (including original Apple smartwatch bands) in the W26 Plus, unlike the W506 model.
Display
The W26 Plus smartwatch model uses a TFT display, while the W506 uses the IPS display. These two types of displays differ in several aspects. When it comes to clarity of the color, the IPS display stands to be better than TFT. Apart from that, IPS gives a broader aspect ratio due to its wide-set configuration. When it comes to energy consumption, IPS takes a little bit more energy than the TFT, meaning that there are chances of having a lower battery life in the W506 compared to the W26 Plus.
Smartwatch W26+ and W506: So, Which Is Better?
There are a lot of similarities between W26 Plus and W506 smartwatches. Both have a rectangular shape mimicking the Apple Series watches and have a similar dimension and weight. Both watches are also compatible with Android and IOS.
Although both enjoy ECG functionality, heart rate monitor, blood oxygen, Bluetooth calling, alarm, and sedentary reminder, GPS and NFC are not on board, among other options. Users can use either smartwatch to control music playback on their phone. Your phone be must connect both of these timepieces to access your playlist while you use them to pause, play next, and back.
Finally, both smartwatches offer a variety of languages. Users can choose from Spanish, Chinese, German, English, Portuguese (Portugal and Brazilian), Japanese, Korean, Arabic, and many more.
Please note, although these two smartwatch models are IP68 waterproof, it's advisable to avoid submerging them in water. That means that you shouldn't consider swimming while wearing them.
Time Ciudad Has All Your Preferred Smartwatches
Choosing between the W26+ and W506 smartwatches is challenging since there is no significant difference between the two. Luckily, this review will help make a decision. Based on your needs and specifications, the battery capacity, ease of charging, face interface, positioning of the crown, and button play a critical role during the selection. You can rely on the exciting features of either watch.
That's it. You now know what to expect and how to differentiate between the W26+ and W506 smartwatch models. Browse our store for quality smartwatches at affordable prices.