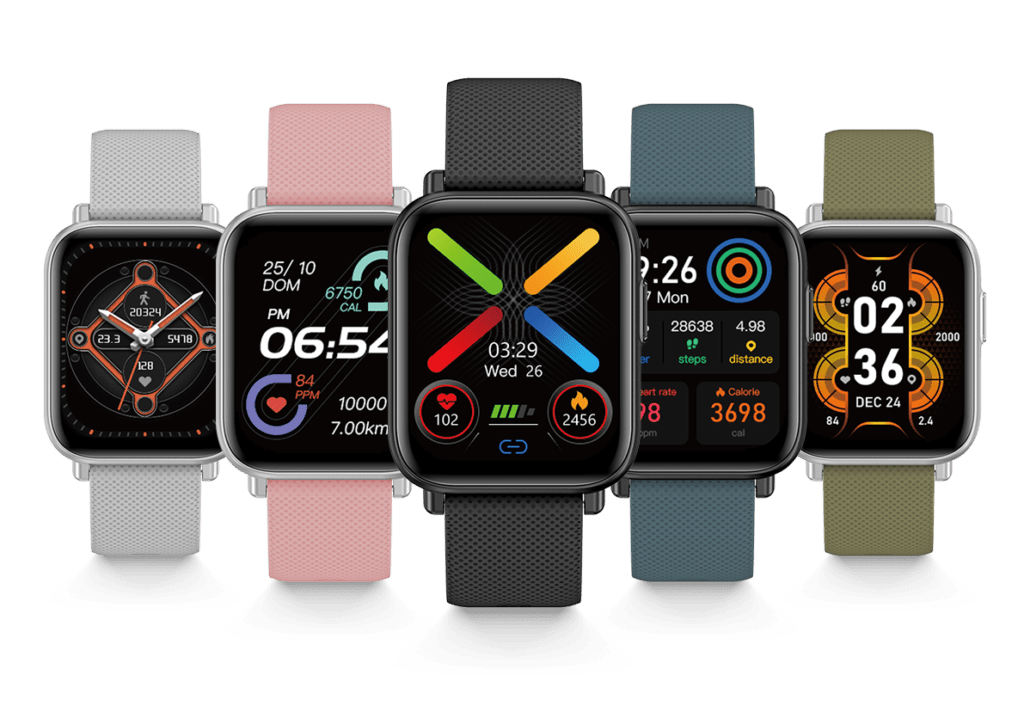 Choosing the best fashion and health-oriented smartwatch can be a hectic task. With the numerous releases of fashion health smartwatches, it's understandable that watch enthusiasts are continuously facing challenges when picking their next timepieces.
But here's the good news: one smartwatch that stands out is the Model TC-F7 HRV smartwatch. So, what's all about this novel smartwatch? This comprehensive article review sheds light on several relevant details that you should know. Here we go!
Design and Display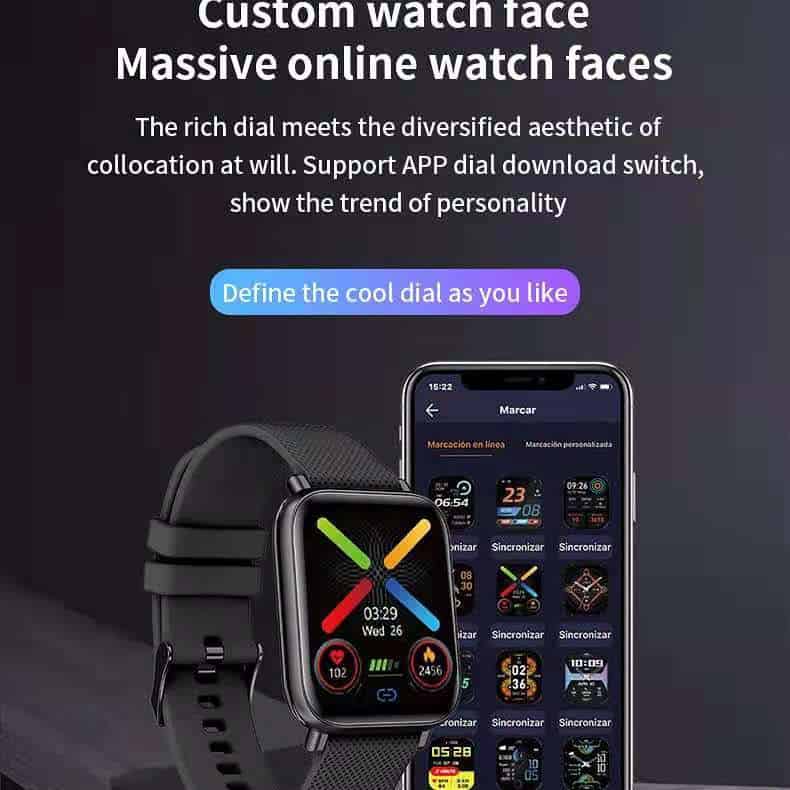 The TC-F7 HRV smartwatch has adopted the typical smartwatch square design with rounded corners. It's a 1.69mm super thin color, full touch with cool vision simple operation. Compared with other smartwatches released earlier, the TC-F7 has distinct colors, that is, black and silver cases.
When it comes to displaying, this watch boasts of a 240 by 280 pixels OLED technology. This makes it a brighter and clear smartwatch that's easy to read in low light. Again, the TC-F7 HRV supports three different dials, including APP link download massive dials and custom dials. If you love creative smartwatch designs and superb aesthetics, this is the watch to buy.
Fitness Capabilities
The capabilities for fitness have never been precise like it is in the TC-F7 HRV model. This watch enjoys a variety of applications that helps its users interact with your fitness workouts wherever you are to protect your health. With a wide range of fitness capabilities, it's one of the best options for wearers who want to take their fitness to another level while monitoring cardio rates and exercising efforts. As an overall fitness tracker, the TC-F7 HRV smartwatch offers up to ten sports modes that include the following:
Running
Walking
Yoga
Football
Badminton
Treadmill
Spinning
Performance and Battery Life
The TC-F7 HRV is an excellent choice for a smartwatch with long battery life. It makes it a suitable companion for your lifestyle both as a wilderness adventurous and an outdoor sports enthusiast. With its 200mah battery, you can enjoy up to 15 days of working time and up to twenty days of standby time.
On top of that, you can enjoy a faster charging capacity with its two-pin magnetic suction base. Therefore, if you like putting your watch on when you are out of your bed and have it ready for the day before you leave the house, this smartwatch should be your perfect choice.
If you're afraid that the battery will not last for long, then that's not the case. This watch offers a low power consumption rate that keeps you away from the trouble of frequent charging.
Smartwatch Performance (Music and Compatibility)
If you are looking for comprehensive health features in a smartwatch, the TC-F7 HRV smartwatch is the best choice to make. It's a no-brainer that this watch delivers superbly with its notifications capabilities. You can optimize your notifications depending on your preference.
If you love music, this timepiece offers seamless synchronizing capabilities with your smartphone. It's compatible with Apple phones or tablets with an IOS of 8.0 or above or android devices with Android version 4.4 and above. This watch also offers an automatic recording capability of your walking, calories, and distance.
As a watch enthusiast, you probably have been waiting for a revamp of this capability. Well, the TC-F7 HRV is your perfect option. Only a few smartwatches boast of this ability, and this watch guarantees it at the comfort of your wrist. Apart from these features, the TC-F7 HRV offers the ability to switch songs from your mobile phone to your watch.
Software and Interface
The TC-F7 HRV comes partially charged. As soon as you take it out of the box and turn it on, it will appear on your smartphone asking you if you want to set up the watch. It will then prompt you to put it on, hold it over your smartphone's camera to pair it. As soon as the watch is paired, it will ask you to restore from a backup or set it up.
One of the crucial aspects you should note about this watch is its fine phone and female physiological period. You can also easily find the watch once you lose it as long as you've successfully synchronized it with your phone. More so, it comes with the following unique capabilities:
Raise up your hand and light up the screen
Sedentary reminder
Remote control camera
Real-time weather
Loss prevention reminder
Support photo control
Mobile phone search
Alarm clock
Blood Oxygen Readings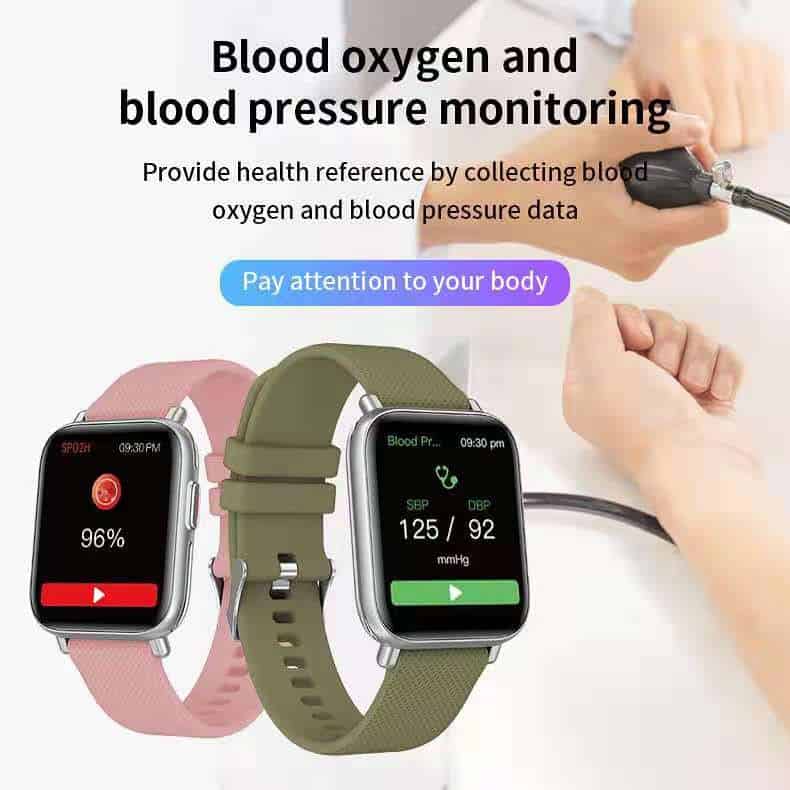 One of the standout features in the TC-F7 is a sensor that can measure oxygen saturation in the user's body. It is a metric that notices how well the respiratory and circulatory systems deliver oxygenated blood to all parts of the body.
The TC-F7 blood oxygen sensors shine infrared and red light through your skin to the blood vessels of your wrist. These lights can measure the color of your blood, which indicates the amount of oxygen in your blood. When the light spots bright red blood, it means that your blood is saturated. If it spots dark red blood, it means that your blood is less saturated.
On top of this exceptional blood oxygen reading ability, this watch can calculate your blood oxygen in fifteen seconds, whenever you want. The watch will start a 15-second countdown timer on its screen when you start blood oxygen. After the 15 seconds are over, your blood oxygen saturation appears on the screen, which offers a better view from your smartwatch.
IP67 Waterproof Capabilities
When it comes to waterproof capabilities, the TC-F7 holds its bragging rights on smartwatches with this ability. As an IP67 rated watch, it means that the smartwatch is completely protected against any solid object like dust as detonated by number 6.
On the other hand, the number 7 indicates that the smartwatch is submergible in one meter of water for a maximum of thirty minutes before any form of moisture penetrates its housing. Which smartwatch would be better for swimming than this?
HRV Capabilities
HRV is the time between heartbeats, which is controlled by the autonomic nervous systems. It's your body's nervous system and body stress, which contains the parasympathetic and sympathetic. It's crucial to measure your nervous system since it regulates the body's involuntary systems like blood pressure, heart rate, and digestion. It's also vital in lowering your blood pressure and heart rate.
Do you probably know that lowering stress is crucial for your health? But, how does it have to do with your fitness? Recovery is an essential aspect of your overall fitness routine. HRV is one of the most crucial metrics that can tell if your body has recovered so you can train again.
The TC-F7 smartwatch uses its heart-rate monitor to measure your heart rate patterns accurately. HRV, however, can be complicated to measure using the heart-rate monitor alone. That's why the TC-F7 has incorporated unique features to track your heart rate, HRV, exercise, and sleep to create an algorithm that suggests when you need to recover or train. If it records high HRV, it means that you are in a better position to adapt to any form of stress.
Sleep Tracking Capabilities
Most likely, the first thing you'd like to test with your new TC-F7 is its sleep tracking ability. This is a particularly convenient feature for users who love wearing their smartwatches in bed. As a precaution, it's recommended to spin the display to a monochrome to resist the temptation of checking your notification when you should be sinking into a deep slumber.
Back to the sleeping tracker, it works out when you get into your bed, depending on where you put your smartphone. The smartwatch will feed the data to your smartphone and store it for days. Unlike other types of watches, the TC-F7 offers deep and shallow deep sleeping monitoring. This means that it can record your sleeping ability between several periods.
Should You Consider the TC-F7 as a Suitable Smartwatch?
Well, this question solely depends on the features you're looking for in your next timepiece. However, when it comes to what most smartwatch enthusiasts look for, this watch has surpassed their expectations with its features.
Therefore, buy the TC-F7 if you…
Want a Long-lasting watch: Everyone wants to hold onto something for a few years (although it's becoming increasingly hard to do this with the overwhelming release of smartwatches nowadays). The TC-F7 matches this expectation with its longer battery life, a wide range of features, and its support for updates.
Value your health and fitness concerns: Although the TC-F7 is not primarily a health smartwatch, its ability to record your HRV and monitor your blood oxygen makes it an ideal timepiece for users who love sport and value their health. With this timepiece, you will have peace of mind knowing that your health conditions are monitored effectively.
Buy 2021 Best HRV Smartwatch from Time Ciudad Today
Are you looking for the latest fashion health smartwatch? Worry no more. At Time Ciudad, we've got you covered. With the Model TC-F7 HRV smartwatch that has a wide range of superb features to choose from, you enjoy a remarkable wearing experience and self-individuality that's unavailable in most smartwatches out there. Chat with us now for inquiries and enjoy shopping from our online store.